Client

61,000 SF
Three-story strategic renovation project
Office Renovation
01 Challenge
A Confidential Health Insurance Client was looking to upgrade a three-story building on their main campus in North Carolina that houses their customer service and healthcare call centers and serves as a focal point for tours to prospective clients and vendors. Despite its crucial operations, the building was outdated, restrictive, and employees felt confined by the space. With a deep understanding of workplace environments and their needs, BHDP was selected as a design partner to bring the space up to current industry standards and craft a user-friendly experience for employees.
02 Solution
To reimagine this building with an improved user experience, our design team engaged first with the people operating inside the space. After reflecting on our findings, BHDP established several key design drivers for the renovation; it must create a community for their workforce, encourage networking and collaboration, improve productivity, spark curiosity, and showcase recognition for their employees and customers. Using these drivers as a guide, we designed a central hub in the "L" shaped building where the two separate wings converge.
Quick Facts
Start Date 2018
Completion Date 2021
03 Results
Throughout the bright and inviting space, updated branding and color establish wayfinding and rich blue accents thoughtfully reflect their brand. Employees utilize the hub as a space to decompress, work, and make connections. As a result of our deep dive into the company's workplace culture, we turned this old building into a refreshing new space that contributes to the health and well-being of both customers and employees—turning their mission into reality.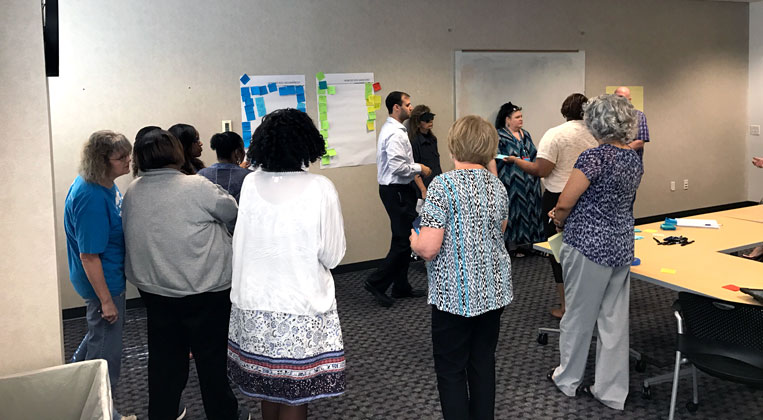 Designing Together
To understand employee needs and gain insight from their experiences in the previous building, BHDP held strategy sessions to share ideas and develop a sense of direction for the design. Not only were the sessions used for design ideas, but they also helped BHDP understand the culture and people that ultimately occupy the space. The strategy sessions, coupled with the utilization and observation studies, allowed the BHDP team to establish several design drivers for the renovation.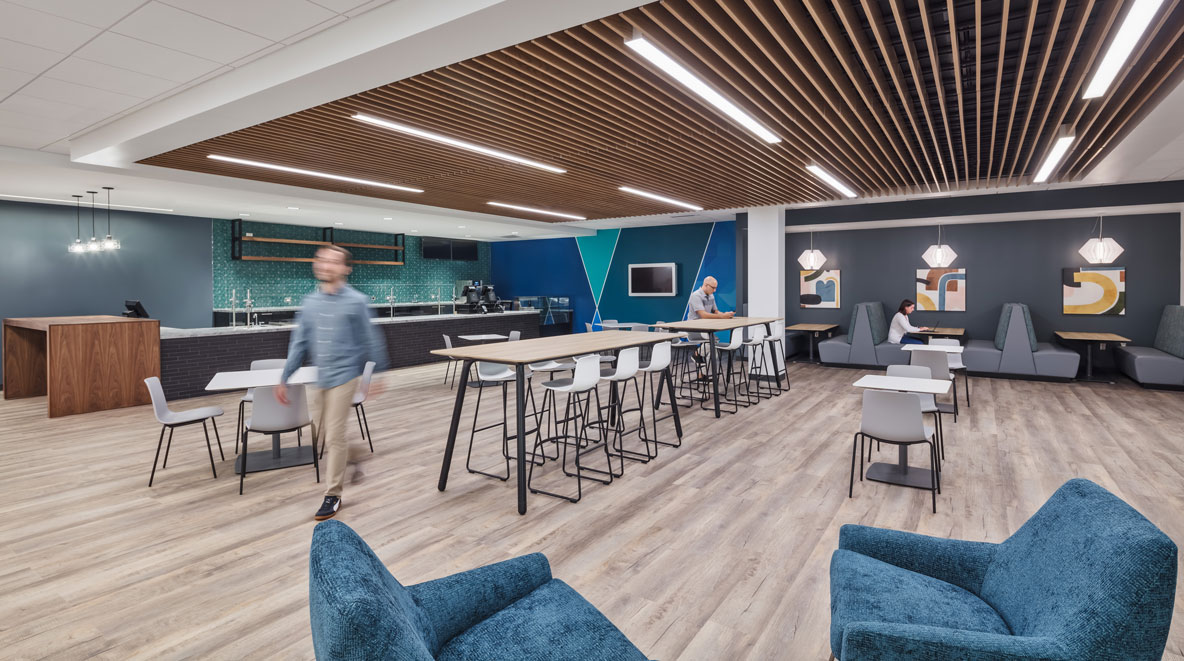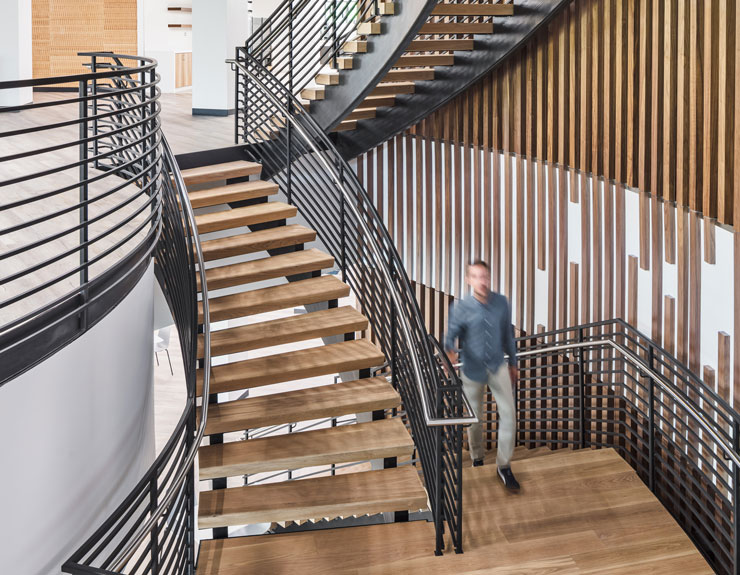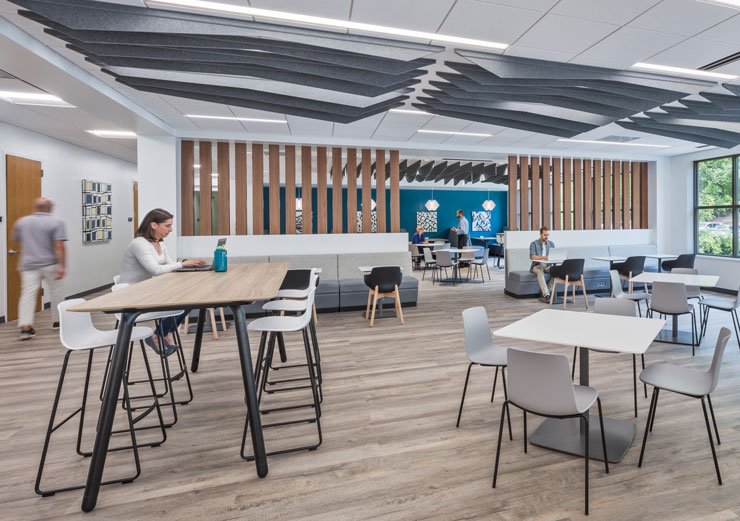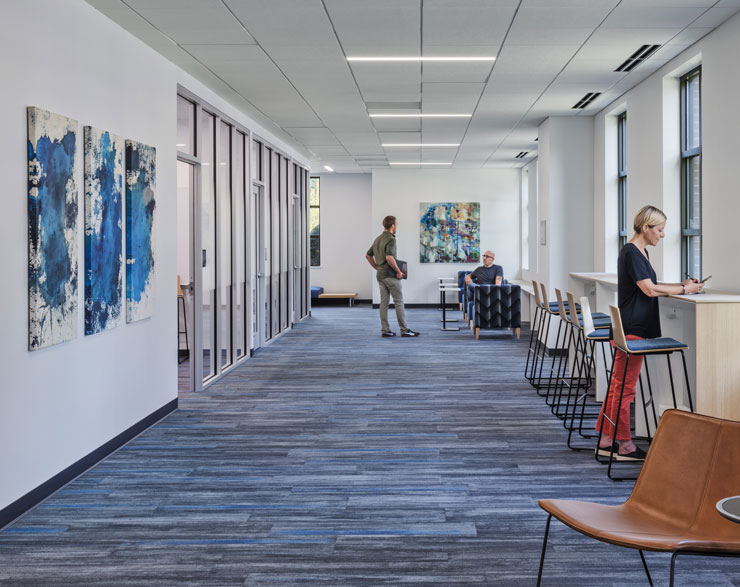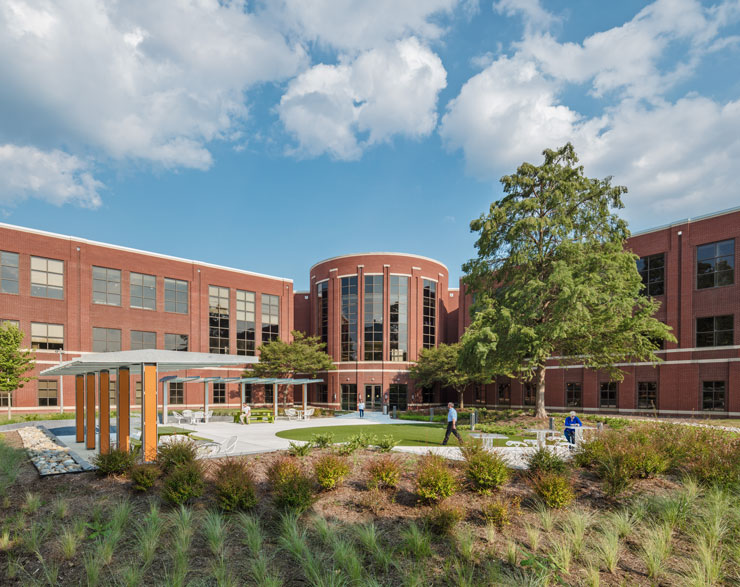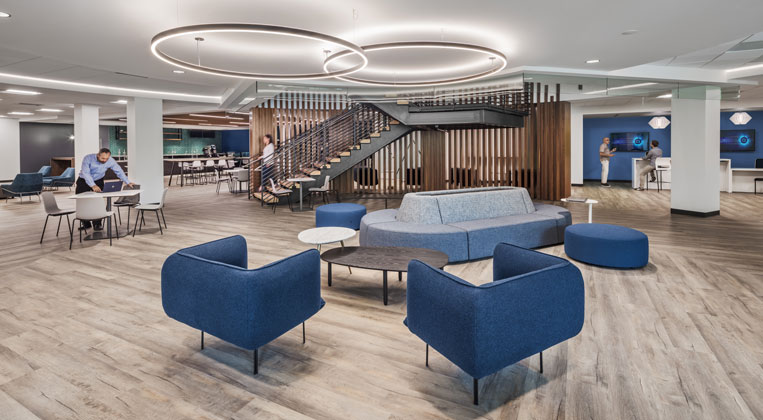 First Floor: Connect
On the first floor of this hub, employees can grab a coffee at Starbucks and work from a comfortable chair or quiet booth, creating casual connections with peers and building energy. A beautiful, open, dynamic stairwell begins in this area, reaching up through all three floors of the hub, connecting the levels to one another.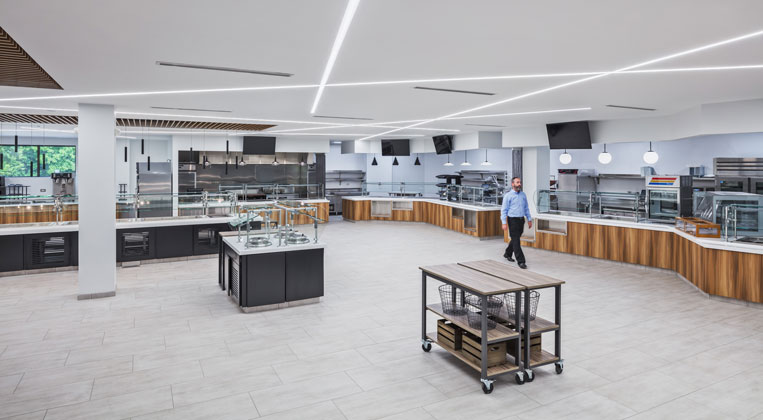 Second Floor: Replenish and Recharge
On the second floor, a state-of-the-art servery with food stations and self-serve kiosks allows employees to replenish and recharge before finishing their workday. This modern dining experience provides employees with a variety of food choices and promotes opportunities for connection and relationship-building.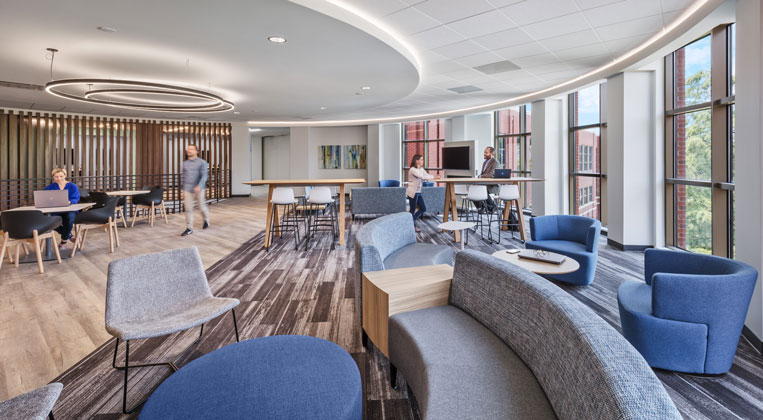 Third Floor: Ideate
On the third floor, employees can collaborate in the new town hall area—equipped with moveable tables, chairs, and whiteboards. With a multitude of seating options and areas to gather, the third floor provides plenty of unique spaces to work and share ideas. The moveable furniture allows users to develop their own setup that is most beneficial for accomplishing tasks as a group.