Client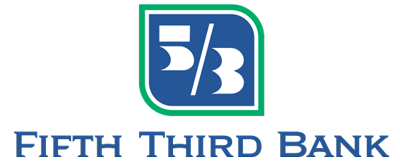 The 140-SF
mural celebrates Milford and the community
Milford Branch
01 Challenge
Fifth Third Bank wanted to consolidate two of their Milford, OH, branches into one that would fit their new service model. As client needs have evolved over time, so has Fifth Third and their approach to branch design. The desire to make clients feel safe and comfortable banking with Fifth Third was essential to the redesign, and this meant breaking down traditional barriers between customer service representatives and customers.
02 Solution
Fifth Third Bank entrusted BHDP to design a spacious 5,000-SF branch to accommodate employees and customers from both existing branches, working with the team along the way to co-create the new prototype. The new branch is more open and inviting, ensuring clients feel confident in their banking partner, and maximizes the "choreography of the employees" as well as the physical space.
Quick Facts
Location Milford, OH
Size 5,000 SF
Completion Date 2023
03 Results
When people enter the new branch, they may ask, "Is this a bank?" because of the significant differences from the old building. It gives customers a familiar sense of being at home in ways the former branches did not. The design combines client comfort, convenience, and safety in one unique space and marks the beginning of a new era for Fifth Third and the world of bank design.
We are an extension of their [Fifth Third Bank's] team just as much as they are an extension of ours.
Chris Collett, Lead Architect at BHDP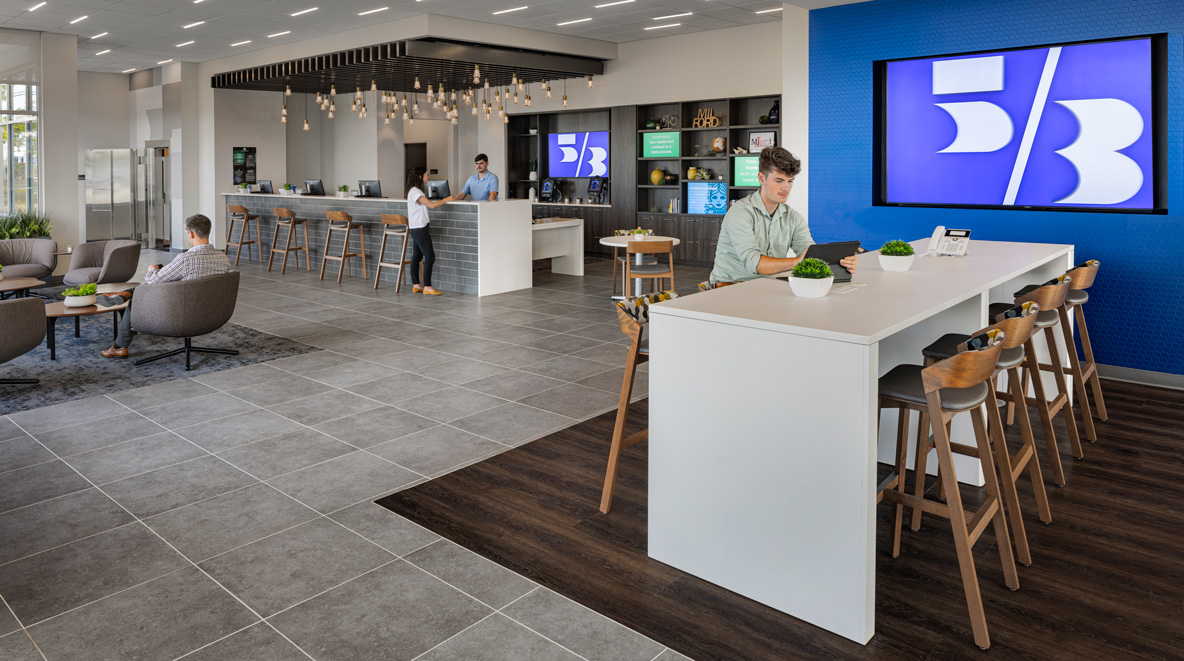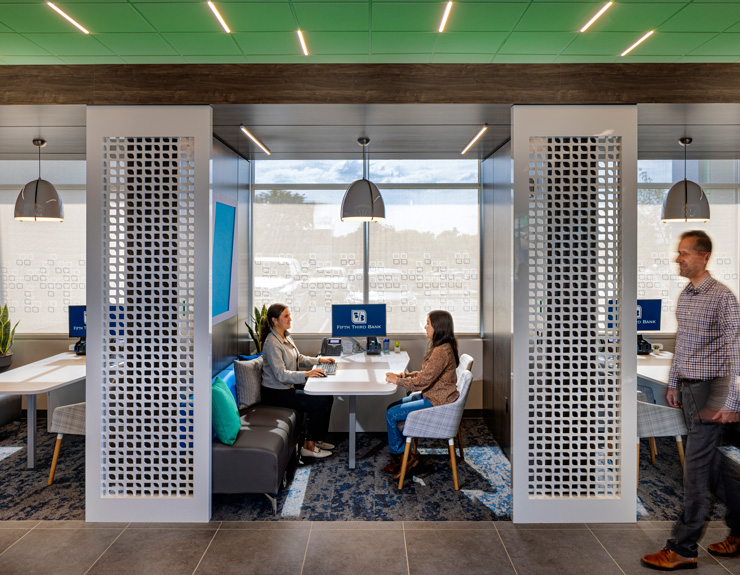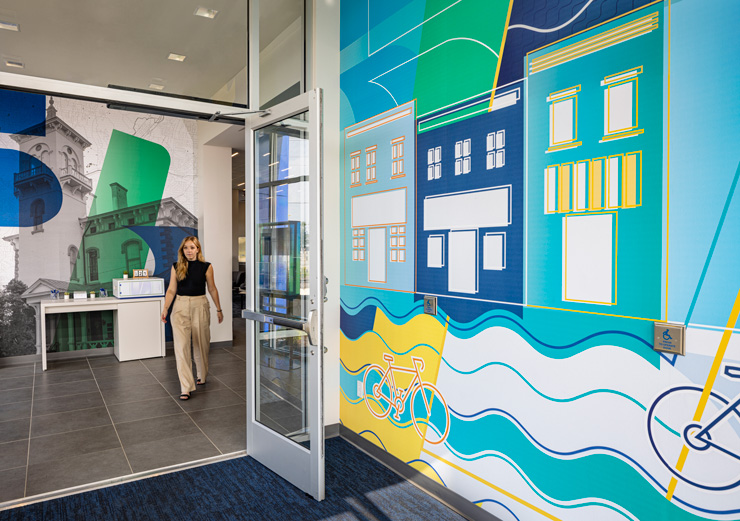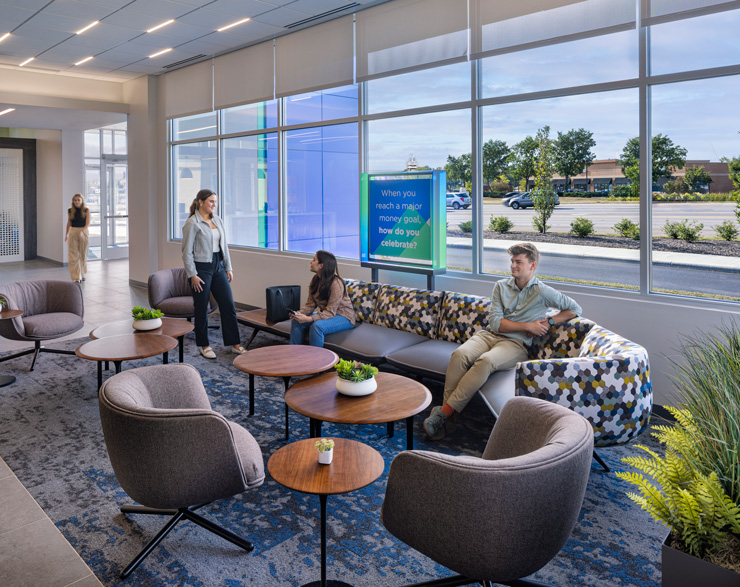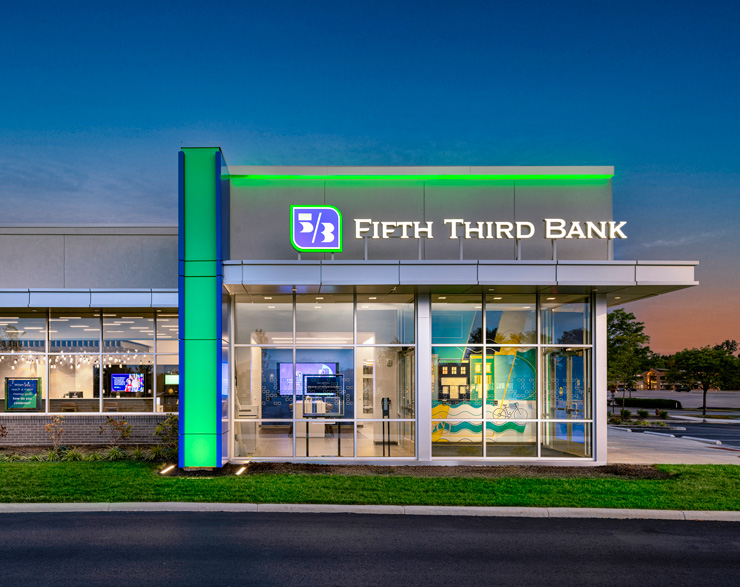 The Transaction Bar
The transaction bar is designed to replace the teller lines of old and instead serve as an open and inviting area for customers to engage with their banker. Additionally, customers have a wide selection of other spaces to talk, whether in an open or private setting. These spaces break down the walls and rigidity of many other banks, creating a more comfortable experience for customers and branch associates.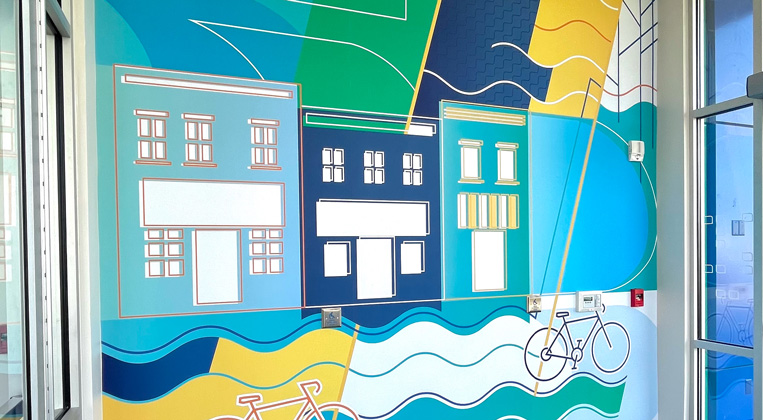 Celebrating Milford
At the entrance to the bank, the colorful EGD feature wall welcomes customers and clients into the space. The 140-SF wall incorporates elements of Fifth Third's brand, Milford's historic downtown, and the city logo to celebrate the community and surrounding area. In bank branch environments, experiential graphic design can be used as a way to communicate, connect with, and engage customers on a meaningful, relevant, and localized level.