Design for People in the Windy City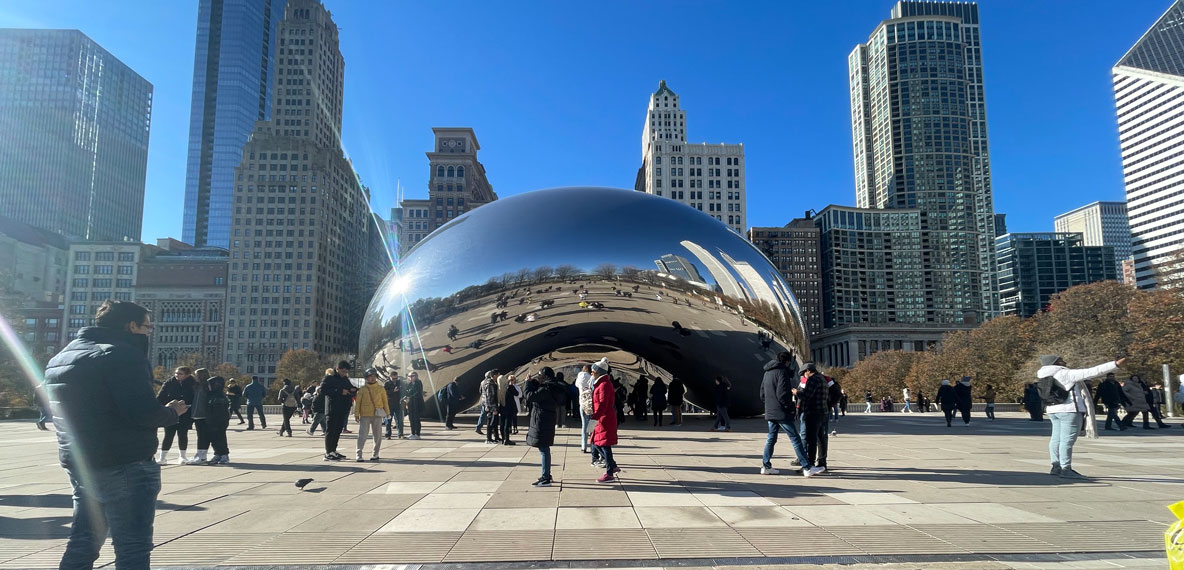 Flashback to the end of 2022 and join me as I recount my last work trip of the year. Although a short trip, it was an impactful one that further emphasized my appreciation of BHDP's promise—we design for people.
---
I step off the plane. It is my 63rd plane ride in a year full of exciting adventures with clients. I quickly glance at the signs toward "Ground Transport" and view my phone to check the schedule. I travel a quarter mile through the tunneled maze of the airport and exit. The crisp December air greets my face as my long wool coat hugs me. I sigh in relief—I'm back.
We came to Chicago to visit "The Mart"—home to arguably the greatest collection of commercial furniture manufacturers under one roof. We brought Manchester University to dream and be inspired for the addition and renovation of their Fort Wayne Health Science Campus that we have the honor of designing. I can think of few American cities that instill such inspiration through human-based architecture.
After a short ride on the L that takes me past some of my favorite memories, a quick check-in at the hotel, and a power nap, I'm ready for adventure.
An Appreciation For Design All Around Us
To me, "design for people" means creating architecture that meets a human need and sets the stage for people to live out their lives. It is not the creation of architecture that necessarily screams "look at me" but instead celebrates humanity.
As I walked around the city, I caught many examples of design for people in real-time.
Cloud Gate
Cloud Gate is the first and most famous example of this. Informally known as "the bean," Cloud Gate sits near the entrance to Millennium Park. While Cloud Gate lives as a piece of art and architecture for people to look at, its dual purpose is quite extraordinary. The work reflects the city and its people in a new and distorted perspective that challenges how we see ourselves and each other. What brings me joy about Cloud Gate is not just its friendly, caricature-like shape or the Instagram-worthy selfie opportunity it provides. Instead, it is how much this simple design brings people together. Standing in the plaza, you can see people from all walks of life smiling, enjoying a few rays of sunshine on a chilly day, and being human together. If we consider our environment a stage, the city skyline is the backdrop, and Cloud Gate is the ultimate prop for this show.
The Great Lawn
The Great Lawn at the Jay Pritzker Pavilion (also known as the Gehry Bandshell) is a space I appreciated only a little before my trip. The Great Lawn is very difficult to photograph because of its massive open size. However, the trellis above it creates one of the most undeniable senses of place I have ever experienced. In a world challenged by numerous issues, I couldn't help but feel that this trellis would hug the people beneath it, bringing a sense of calm and community to everyone it encapsulates. I find peace in the architecture as it brings people together and unifies them, whether for a concert, vigil, or any other event of life.
BP Bridge
At the east edge of Millennium Park is the BP pedestrian bridge, snaking users across Columbus Drive. In this example of designing for people, the bridge addresses the practical human need to cross the expansive Columbus Drive. As art, however, the need for active design is real and applied. Along the path, you can see people enjoying the playful, circuitous route the bridge takes and the juxtaposition of materiality between the organic wood and cold metal.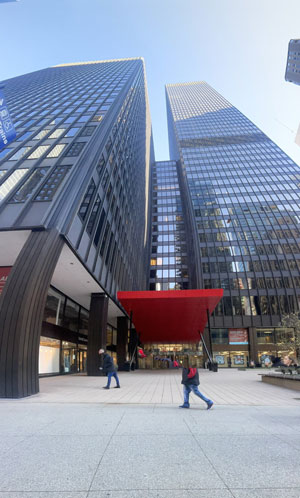 Michigan Plaza
Two towers inspired by Miesian architecture stand proudly at 205 and 225 North Michigan Avenue. However, it is not the modernist high rises that exemplify design for people—it's the entry canopy. The difficulty with a traditional, podium-lifted high-rise design is that its omnidirectional approach can confuse patrons about where one should enter. This building extinguishes potential uncertainty by using an aggressively red canopy to clarify entry. As a visitor, this instills confidence as one approaches an otherwise intimidating structure. Although it presents itself as just a large red canopy, it factors in the needs of the person to improve the user experience.
Apple Store
The Apple store, located West of Michigan Ave and North of the Chicago River, provides one of the most stunning examples of human-centric architecture. One could be in awe at various factors such as the richness and quantity of glass used, how it meets the landscape and dips down into the river, or the widely sustainable design. However, these are all qualities of the building. In my perspective, the point of architecture is not the building itself but rather the people in it. Squint your eyes, and the opaque roof disappears into the background beyond, and you are left with just people. People interacting, shopping, listening, waiting, and more. The architecture of this space is not material but the immateriality of the stage it sets.
Finding Inspiration in the Furniture
While the city is filled with examples of designing for people, it was best that I continue on my adventure and meet up with Manchester University to look at furniture.
As we walked through numerous showrooms from some of the best furniture manufacturers, BHDP and Manchester University enjoyed two days of laughter, conversation, and inspiration. The Mart and associated spaces in Fulton Market are about more than just furniture. It's a place and moment to be inspired by products, architecture, and a way of being.
We discussed places of rest and relaxation. Places where students can catch a break between classes or staff can have a moment to recharge. These living room settings provide a place for us to connect with one another—a place where we can be human again.
We observed numerous examples of workplace settings and discussed the future of these spaces extensively. People work in various ways in the modern world, from the executive office that is fully ADA accessible to small, one-person focus pods. We want to connect not only in person but with all our digital devices and colleagues worldwide. Design for people in the 21st century is not just what you can touch and feel but also a seamlessly integrated digital experience.
In higher education, the classroom is the most functional human interaction space between professor and student. We saw new trends in classroom and hybrid classroom spaces—learning how to connect the student to the learning experience in the most transparent and pedagogically sound way.
A Successful Adventure
Exhausted but inspired, I rode on the L back to MDW and reflected on the time in my favorite US city. From my first visit as a Junior in college, living downtown and working at high-end architecture firms—to becoming an architect myself and sharing this incredible human experience with our clients many years later. Overall, this city celebrates architecture as an expression and extension of the people that it serves. It designs for people in a way that resonates with and is integrated into our practice.
Author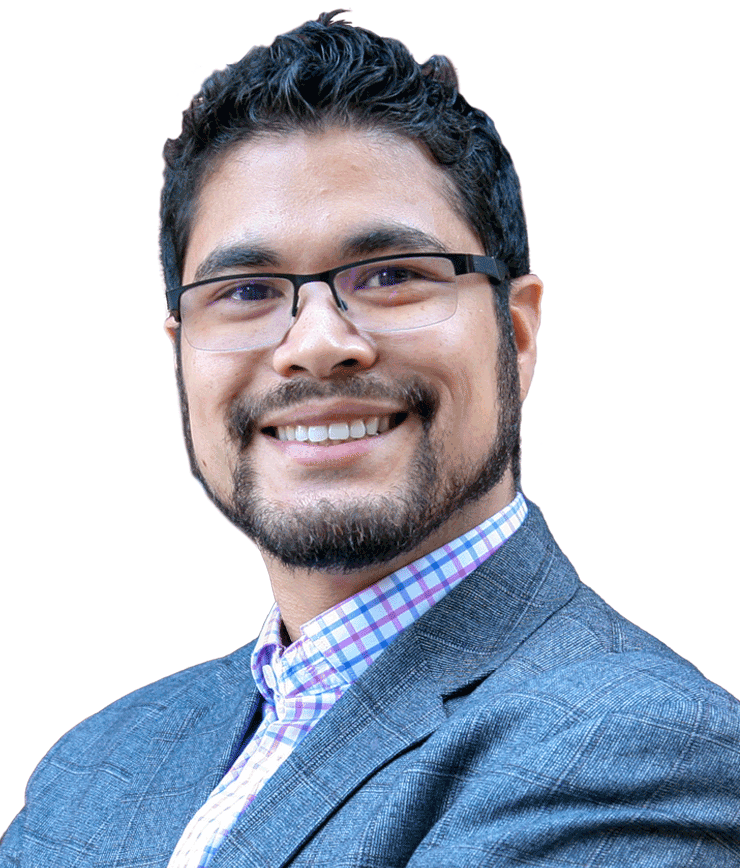 Alejandro J. Medina
Topic
Design Thinking
Interior Design
Campus Planning