Client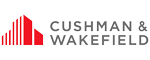 5,000 SF
of new space was added to the lobby, making it more inviting, larger, brighter, and ultimately, more usable
Columbia Plaza - Lobby Renovation
01 Challenge
As one of the larger, more prominent buildings in downtown Cincinnati's business district, Columbia Plaza needed a well-deserved facelift beginning with its main lobby. BHDP's mission was to transform the 3,900 SF lobby space so it would make a stronger, more positive first impression of the entire building with additional common space, entrance points, and natural light.
02 Solution
BHDP's new lobby design expanded the original space beyond the exterior façade of the building and added significantly taller windows that stretch to the second floor, so more light can filter into the lobby's interior spaces. This dramatic design provides additional space to accommodate new soft seating and doors while including a few vestibule entries to encourage an increase in foot traffic. The interior of the lobby features more modern and linear lines, and light-colored finishes, along with additional upgrades.
Quick Facts
Completion Date 2018
Size 8,700 SF
Location Cincinnati, OH
03 Results
The expansion and upgrades have added value to the building and given it a more contemporary image than many nearby older buildings. Buoyed by this positive progress, the new owner plans to continually upgrade the building.