Client

ONE HECTARE
translates to 10,000 square meters (meaning this site is 1250 acres)
Mixed-Use Master Plan
01 Challenge
Strong master planning can create consistently organized campuses that attract industry-leading corporations. In 2013, BHDP was commissioned to develop a master plan for a 100-hectare site (1250 acres) in Panama City, Panama. Utilizing the BHDP's Design Process, the developer was lead through a process whereby a Master Plan was assembled to attract U.S. and International Corporations, regulate development to meet a consistent quality, and provide a return on investment for the developer.
02 Solution
BHDP executed a research initiative to understand the market, competition, and economic impact of the canal expansion. BHDP lead a team including many consultants to address building configuration and footprint sizes, reliability of utility services to the campus (electrical and domestic water), site accessibility from major vehicular arteries (both public and private transportation), the density of the built environment (parking-to-building SF ratio), and stormwater and flooding mediation.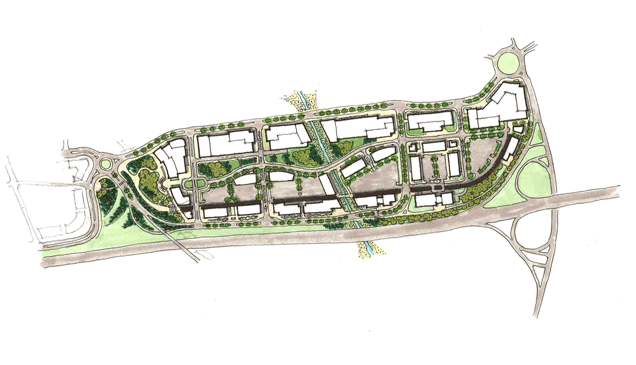 Quick Facts
Completion Date 2013
Size 100 hectares
Location Panama City, Panama
03 Results
The final resulting development has proven to be the best development in Panama. In 2013, there were two corporate campuses and a third opportunity pending of near 750,000 SF of built environment for the development that align with the design master plan guidelines.