Client

A 10-YEAR
relationship between Wendy's and BHDP has continued to evolve and grow
01 Challenge
A long-term client of BHDP, Wendy's was looking to upgrade several key areas of their Restaurant Support Center in Dublin, OH. These areas were underutilized and provided an opportunity to help showcase Wendy's dedication to their company culture. Each space on campus required a unique plan for updating and optimizing square footage to benefit employees and maximize the intent behind the designated areas.
02 Solution
First, our goal was to relocate their in-house cafe to create a destination point for employees and visitors. Additionally, for their R&D kitchen—the Innovation Kitchen—Wendy's desired an inspirational, innovative working environment that is functional and impressive. Lastly, we elevated their board room into a contemporary and professional meeting place. Armed with knowledge from various focus groups and visioning sessions, our teams transformed these spaces while maintaining Wendy's brand.
Quick Facts
Location Dublin, OH
SF Various
Completion Date 2021
03 Results
Leveraging the strengths of this collaborative design team, BHDP executed various campus upgrades that showcase culture and innovation. The newly renovated spaces are modern, functional, and forward-thinking. With these various campus renovations, Wendy's once again demonstrates their commitment to innovation and creativity—in all aspects of the business.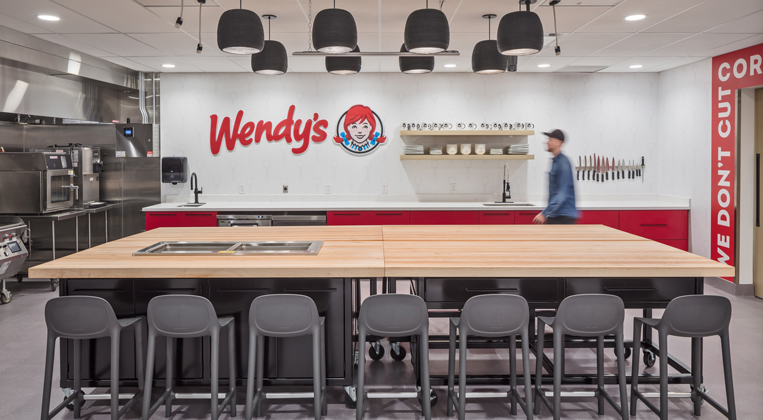 Innovation Kitchen
The Innovation Kitchen features a presentation area, cooking lines equipped with Wendy's restaurant equipment, a culinary kitchen for food demonstrations, and other amenities to assist in development and inspire employees. People tend to think of research and development areas as concealed and secretive spaces, but the Innovation Kitchen celebrates the opposite by minimizing hard walls between spaces and using glass partitions to create transparency and connectedness for team members and visitors.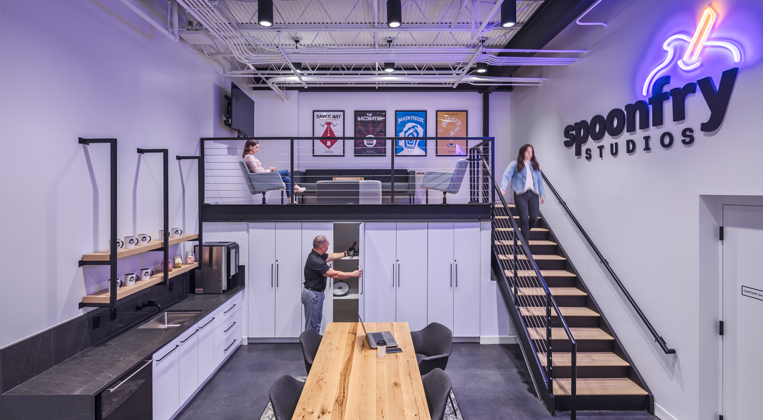 Studio
Wendy's needed a space where creatives could come together and have the studio, storage, and collaborative space needed to be successful. We kicked off this project with a general meeting of what their team envisioned for the space and then initiated weekly updates with the team to capture the evolving equipment, graphics, and functional needs for the studio. The resulting design is simple and sophisticated with a touch of industrial edge that checks all functionality boxes and fulfills the team's desire for a bad-ass space.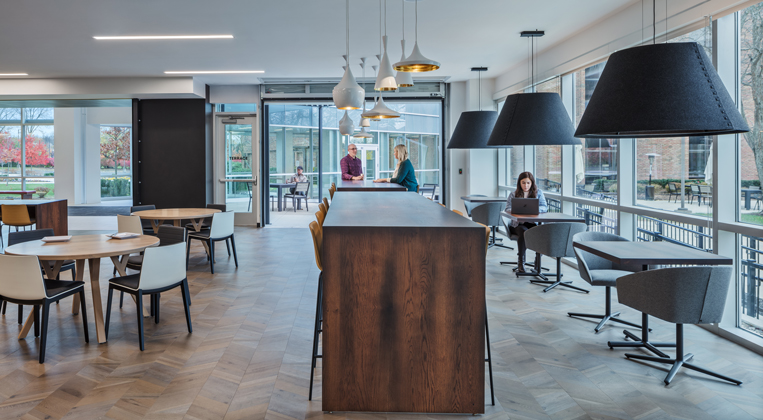 Four Corner Café
Wendy's existing campus café was situated in the basement of the building, which was not accessible or inviting. Wendy's wanted to resituate the café elsewhere on the campus where more natural sunlight could permeate the space and people could visit for longer periods of time rather than just grab food and go. Through focus groups and research, BHDP was able to successfully identify employee preferences and implement their findings into a redefined version of a corporate cafeteria. The Four Corner Café connects people together in a unique and purposeful space centered around what the company does best—food.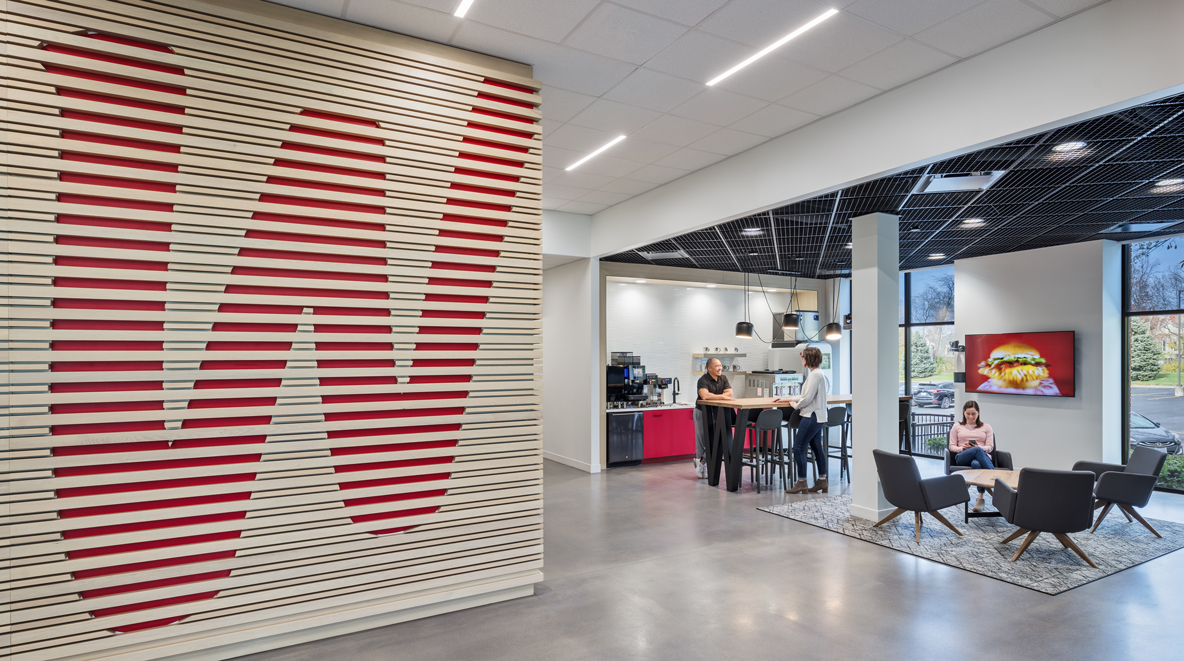 The Innovation Kitchen lobby showcases Wendy's Culinary Team's bold ideas, fosters collaboration, and allows for a variety of activities to occur either by the large digital display or in the break space.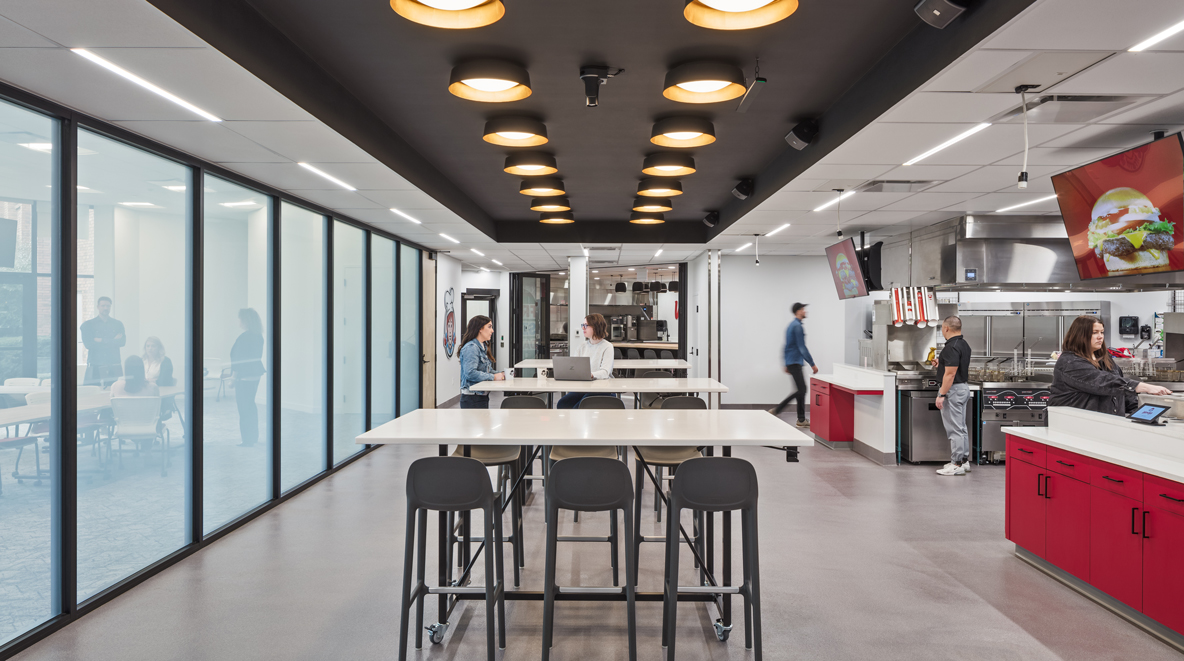 The Innovation Kitchen celebrates research and development through their open and inviting Innovation Kitchen. The kitchen is connected to a large conference room, the "Food Theater," via switchable glass.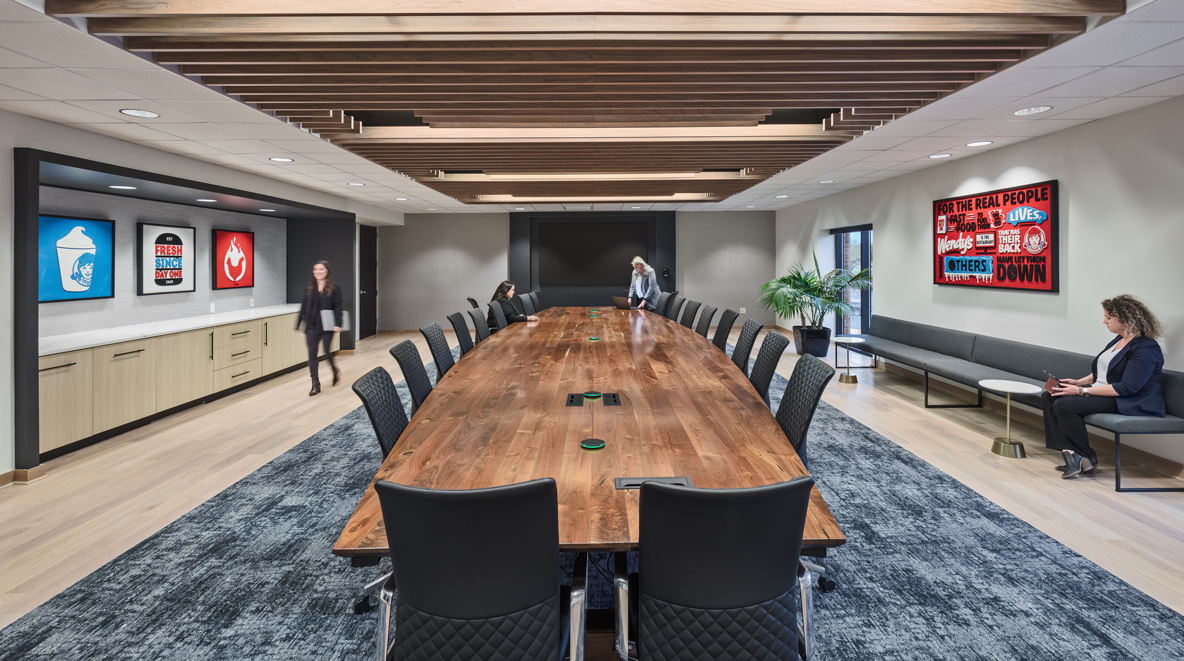 Wendy's Board Room was elevated into a contemporary and professional meeting place. While the updates to the board room were smaller in nature, they dramatically improved the look and feel of the space.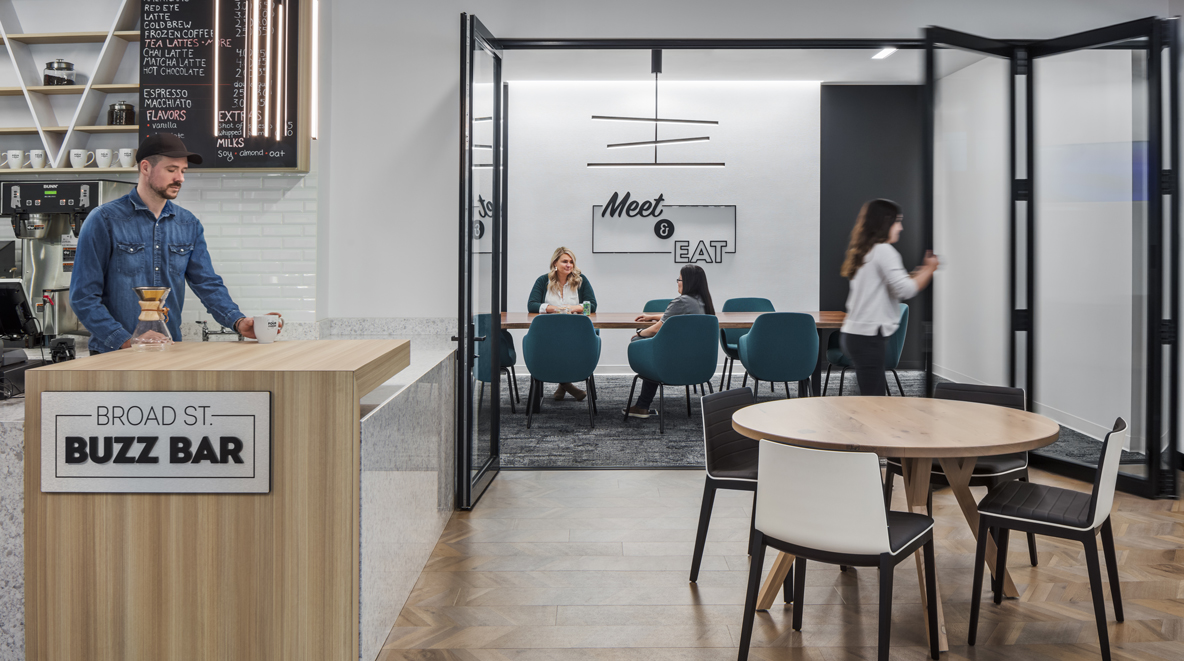 The Four Corner Café has defined areas without division and barriers. Furniture solutions, sliding doors, and various seating options allow for collaborative environments and "quiet" spaces to be formed.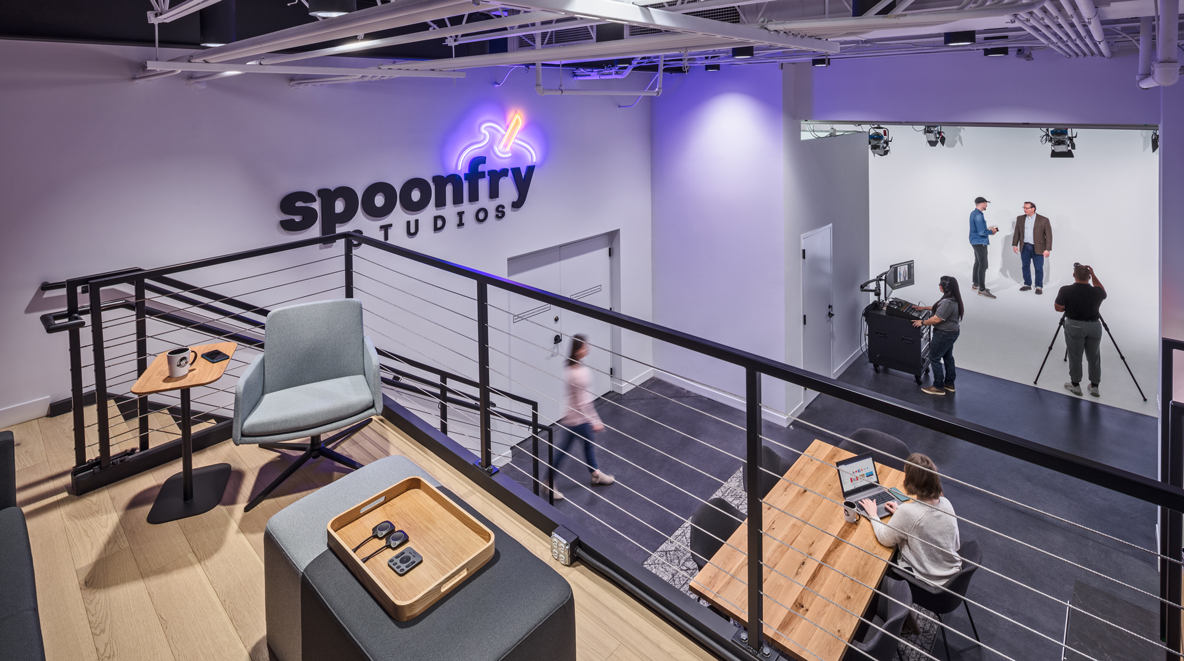 To create greater functionality in this space, a mezzanine with storage underneath and collaborative space was integrated. Not only does this solve for functionality, but it creates visual interest and curiosity to interact with the storage areas.