Client

FOUR DEBRIEF ROOMS
allow live streaming and video review of simulations for observation, critique, and debriefing by students and faculty.
Allied Health Simulation Lab
01 Challenge
Cincinnati State was looking to renovate classroom and office space in the Main Building on its Clifton campus and create a new simulation lab to provide opportunities for students to experience current medical technology and healthcare practices in an educational setting. The simulation lab supports Allied Health training for the College's Nursing, Practical Nursing, Medical Assistant, Respiratory Care, Diagnostic Medical Sonography, and Emergency Medical Technician programs.
02 Solution
BHDP designed a state-of-the-art facility with three unique simulation spaces with adjacent debrief rooms and a control room to manage all operations. The single-patient room can alternate between a hospital or physician's office setting, and it also includes a residential restroom for EMS recovery maneuvers in confined spaces. The double-patient room features two beds and can accommodate a mother and neonatal scenario, and a multi-purpose room can simulate a range of scenarios, including CPR training and an emergency situation with multiple patients.
Quick Facts
Completion Date 2022
Location Cincinnati, OH
Size 8,142 SF
03 Results
The new simulation space strengthens qualities such as empathy, safety, collaboration, and informed reasoning, building students into successful health professionals. Students have access to the lab in class and off-hours, allowing them to take complete advantage of the space. With limited-to-no access to local hospitals' sim labs, there are now opportunities for interdisciplinary, professional growth right on campus. The fully equipped simulation lab provides the College with the resources needed to provide an accessible and quality technical and general education for years to come.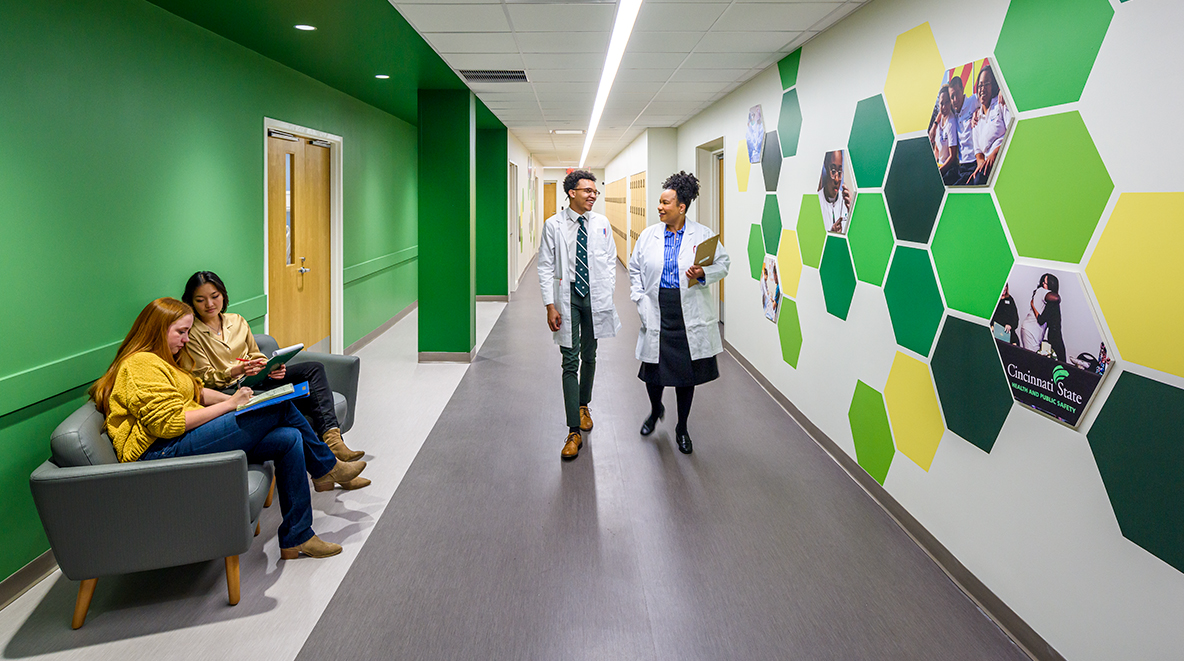 Experiential graphic design infuses the simulation lab with branded graphics to increase pride and elevate student and visitor engagement.