Client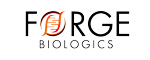 A 163-FOOT
mural showcases the scientific process Forge Biologics uses to manufacture life-saving gene therapies
cGMP Manufacturing Facility and Office Expansion
01 Challenge
Forge Biologics, a Columbus-based development engine accelerating the advancement of gene therapies, enlisted BHDP's planning, engineering, and architectural services for The Hearth—a more than 200,000-SF building with a custom-designed cGMP facility dedicated to AAV viral vector manufacturing. Their facility required a multi-phase design, which included a cGMP buildout, development and analytical labs, and a 50,000-SF office.
02 Solution
After gaining valuable information in our Understand phase of Forge Biologics' conceptual master plan, BHDP developed a phased approach for the cGMP cleanroom buildout. The Forge master plan included each phase as a separate tuning fork with every suite designed for ISO 7 conditions. The cleanroom layout is self-contained and helps drive unidirectional workflow to support operations. Since each tuning fork can function separately, the phasing allowed for expansion while maintaining current operations.
Quick Facts
Completion Date 2022
Size 200,000 SF
Location Columbus, OH
03 Results
Working collaboratively with our engineering consultants and lab planners, BHDP developed an environment that improves processes, increases performance, and drives efficiency.
Improves Processes
The directional flow from controlled not classified (CNC) areas to ISO 8 and into ISO 7 keeps all gowning and airlocks in the same section of the building, allowing space for quality assurance laboratories at the end of each tuning fork. These laboratory zones support the work in the cGMP space with direct pass thrus and provide areas immediately adjacent to the lab for employee collaboration.
Increases Performance
Each suite within the tuning fork is adaptable and can switch operations to support changes in production needs as they occur. The supporting fluid conveyance corridor is sandwiched between each side of the running for ISO 7 zones to provide large volumes of liquid in and out of the space efficiently and ergonomically.
Drives Efficiency
The tuning forks can expand types of production—increasing output and efficiency—and as they expand clients, products, and ideas, they can build out additional tuning forks.