The Future of AIA: Part 1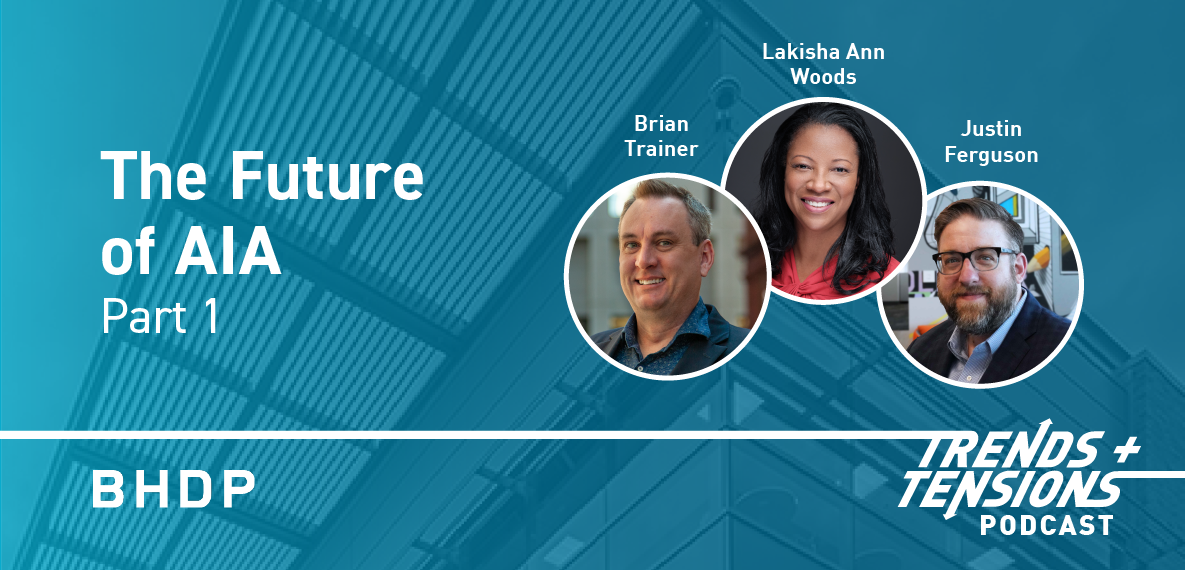 Want to listen on another platform? Choose your platform here.
Episode Transcript
(Music Intro)
Brian Trainer, Host: Welcome to the fifth season of Trends + Tensions presented by BHDP, where we discuss trends in architectural and interior design and the competing priorities or tensions that arise from integrating new ideas into existing organizations, enterprises, and institutions. For our first episode this season, "The Future of AIA: Part One," we are excited to have Lakisha Woods, Executive Vice President and CEO of the American Institute for Architects, and a special guest host, Dr. Justin Ferguson, a lead strategist at BHDP and an active member of AIA. Lakisha, who began her tenure as EVP and CEO at the beginning of 2022, has been busy laying the groundwork for AIA's future, which involves a more equitable, diverse profession and more sustainable built environment. We connect with her, fresh off her appearance on the first season of the CBS show, America ByDesign: Architecture. I'm your host, Brian Trainer, senior strategist for BHDP, and this is part one of a two-part series.
Justin Ferguson: All right, well, welcome, and congrats on your first year, Lakisha.
Lakisha Ann Woods: Thank you! I am really excited about approaching the end of my first year.
Justin: What a way to start 2023 with a historic first for AIA, an all-female leadership team. So, made up of yourself as CEO of AIA, and then you have President Emily Grandstaff-Rice and 2024 president-elect Kimberly Dowdell.
Lakisha: That's right. We have a powerhouse team, and the overall officer team is fantastic, but it was actually our previous president who pointed out the fact that this would be this historic first of three women in the highest leadership roles at AIA.
Brian: So, was it by design or just serendipity that brought us to this wonderful point in history?
Lakisha: I think it is purely serendipity, and our members not just being those who are talking the talk, but they're walking the walk. They're showing you that they've recognized the importance of diversifying our leadership team, about the opportunity for all people to advance within the profession, and they made those decisions by voting in the leadership that you see. So, it's an exciting time. Again, a 165-year-old organization—it's time. We're thrilled just to continue to make great decisions on behalf of the profession.
Brian: So, the three of you now leading, and perhaps, like you said, somewhat affirming AIA's commitment to building a more equitable and diverse profession in a more sustainable environment. Could you speak to those two areas—so equity and sustainability—or, better yet, how they're connected to each other and the built environment?
Lakisha: Absolutely. Well, you know that we speak often about the fact that those are the two primary goals of AIA in its new strategic plan. And that's what we continue to frame our products and services, the educational content that we create, and those resources that we develop for the profession around: the message of equity and climate action. And there's a lot of crossover. I've often shared a story of a woman who had to pick up her daughter from school in Baltimore because the heat was so high, and there was no air conditioning in the school, and they had to close the school. It was this combination of how if the school stayed closed, she was going to lose her job, and what can we do as a profession to make a more equitable environment so that the buildings are sustainable and have the same resources for all students in any ethnic background, in any community. It is our opportunity to really shape the fairness around how we develop schools and, again, that job environment and what people have the flexibility around (flexible work-life balance, etc.)—so where climate and equity really align.
Justin: And I think that really gets to what you've talked about in the past, the power of storytelling, and really starting to understand those stories and the people behind them. I know you're trying to showcase and celebrate the design work of architects, particularly of women and people of color in this country. So, congrats on your role with the new architecture show on CBS, America ByDesign. Can you talk a little bit about that experience, perhaps the thought to bring architecture to the masses, and what other storytelling from AIA may we see in the future?
Lakisha: Oh, yes, that was a great opportunity that we had, and Mike is a wonderful producer of the show and was just a really great partner. He recognizes the importance of AIA and our role, and that's why he chose to feature all AIA projects, all of AIA architects, that highlighted the great work that we do: sustainable projects and a variety of different projects that are happening around the country. And what was really exciting is that one of our members got to see themselves on TV and be streaming, of course, online. But, also, you'll see next month in six major markets that this show will be on CBS primetime. And, again, one of the big talking points that came away from my one-on-one conversations with members throughout the year was that they want the general public to be more aware of what they do, why it matters, and the story behind them and what they're doing and get people excited about architecture. And if anybody's had a chance to take a look at a couple of those shows, they did an exceptional job of just showcasing the beauty and the mission. I'm really thrilled to have that partnership and we're already in conversations to work on season two. So, they're working on season two now, and we are trying to make sure we continue to get our members aligned and also strengthen the message of AIA in that show.
Brian: See, nobody told me that I was going to have a television celebrity in my midst today, so I'm a little fan-struck at the moment. I'm like, "I don't know to behave."
Lakisha: [laughs] So sweet.
Brian: But it's called America ByDesign?
Lakisha: It's called America ByDesign: Architecture.
Justin: That's great. So, now we can add TV star to the list of CEO of AIA, former CEO of the National Institute of Building Sciences, the Chief Marketing Officer of the National Association of Home Builders, Executive Director for the Association of General Contractors of America, and you were the 2021-22 Vice Chair of the U.S Green Building Council. So, you've been in a lot of leadership roles with many design-related organizations, which, to be blunt, tend to be dominated by old white men. Have you observed examples of these organizations, or other companies, internally tackling DEI issues successfully?
Lakisha: I have had a wonderful career in the built environment. One of my first jobs out of college was working for the National Ready Mix Concrete Association, and I will say right there at that subcontractor level, I was sucked in, and they taught me very quickly. When I would hear the newscasters on TV talking about a cement bridge, I was like, "It's concrete!" So, they taught me really quickly, and I just loved everything about this space. And yes, I often was the only person in the room that looked like me, even though I was staff. And, of course, the people that I would be interacting with at all those associations are the people that were leaders, the owners of their companies, and the leadership from those various firms. What I have heard over the years are many stories. Part of the reason I'm so passionate about supporting women within this space is that it's a numbers game, right? Women are 51% of the working population, so any company that wants to be successful needs to have women in leadership. It's just a financial data fact. So, we have to do our part to support businesses, and therefore, we have to recruit women into our space. But, also, women represent nine to 10% of jobs within the built environment, so we've got a long haul and we're competing with all the other industries out there. So we have to change the culture. We have to be intentional about changing the environment, be aware of our unconscious bias, and try to truly put systems in place to make better decisions as organizations. And as an association, it's our job to provide those tools and resources because architects are designing and the members are focused on their business and they often forget about some of the steps within the HR part of the business that can really help them be successful. So, we're here just as a resource and to help guide them. What's great about coming to AIA was, again, seeing that strategic plan, what they put in writing, and what they said they were focused on. It's something I've never seen at any other organization—to truly put in writing, "this is something we need to tackle; this is something that we see important." And, it's helped me recruit people to AIA because so many other people on the staff team want to be a part of an organization that's trying to improve the environment and improve the work environment with having equitable spaces. So, it's an easy sell. It was an easy decision for me to make when I was asked to consider the role and I've seen some great companies, especially within the architecture profession, that are making really intentional steps to diversify their team. And, again, they're seeing those financial wins. What I will say is, the first step is just recognizing that you have to assess your team. One of the things that I've seen with some of the firms that I've spoken with is they're tracking their success. So, they're looking at their breakdown of their staff teams and where they're located. I always tell people, when you're looking to diversify your team, you also have to make sure that your organization represents the environment, or your community, of where you work. So we're a national organization. We need to have a staff team that represents the nation, and the makeup, especially of the DC area. It's a melting pot, so we have no excuse to not have a diverse leadership team because there are so many people to choose from in our environment. But we have members that are based in Iowa. You really have to recognize that the diversity of your team is going to be based on the community in which you represent. So it's not a generic set of numbers that you should be going up against. You do just want to reflect the community and be intentional about making a welcome space. What I have loved about my history, no matter how different I looked from so many of the people that I worked with, is that they were always building me up. I didn't become CEO without having the opportunity to grow in all of those organizations. If it wasn't for the support of those older white men that you mentioned, I wouldn't be in the job I'm in today. So, I love all people.
Brian: That's wonderful. So, you talked about a lot of positive stories about people ready, and willing to make that change. So, imagine if there's a company that might be a fence-rider, and they're like, "Well maybe we should be doing something about that and we're not sure." Have you ever had to try and convince someone who's successful in their business to behave differently, when their behavior is what helped them be successful in the first place? What would you say to somebody to kind of nudge them to be more inclusive and create a little diversity in their staff?
Lakisha: Business owners often will recognize that they have strengths that have gotten them to where they are today, but anyone who is running a business today should always look at the data, look at the research, look at the history of companies that were at the top of their market and are gone because they did not develop, they did not react to the changes that were happening in the environment, and they lost all of their statures overnight. You are not being a valuable leader if you're not paying attention to all of the studies and all of the data. It's why I always try to remind our members, who will sometimes say to me, "Well, I think your organization is spending too much time on EDI. We need to talk about the business and how do we make our business more successful?" I hear that because one of my other roles is I'm the chair of the board for ASAE, which is the American Society of Association Executives, and they're also focused on EDI in this space. And we've heard from members that "you're too focused on EDI." We are focused on the topic that is going to impact your business. And all of the data—I will pull it every time and say that those companies, that have a more diverse leadership team and have brought more women on board, are more innovative and are more financially successful. That's what the data shows and that's why we are trying to influence making the right decision for your firm and providing you the resources. AIA has tools like the guides to equitable practice. It's just a tool. It's a resource you can use to review the information and how to adapt it for your own firm. That's what we do—we provide the resources and you are going to choose to use what you want to. We can't force anyone—they're their own independent businesses, but I would hope part of the reason people are members is because they value the resources that we provide that help them stay in business, help them grow, and help them be more successful because at the end of the day, if our architecture firms are not more profitable, then what's the future of AIA?
Brian: Well said. Thank you for that.
Justin: Very nice, very nice.
Brian: Thank you for joining Trends + Tensions presented by BHDP for this episode, "The Future of AIA: Part One," with Lakisha Woods of AIA, and my guest co-host, Dr. Justin Ferguson. If you appreciate what you've heard, please rate, subscribe, and give us a review. I'm Brian Trainer, your host, and I hope you'll join us for another Part Two to see what topics drive design.
Author
Topic
Diversity, Equity, and Inclusion