Client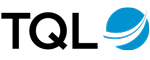 160 FEET
the height of TQL's new flagpole—the tallest in the Tri-State Area
Headquarters Expansion
01 Challenge
Located in Cincinnati, OH, Total Quality Logistics (TQL) is the second-largest freight brokerage firm in the nation. Since 1997, the company has recognized skyrocketing growth and lives by the motto "Keep America Moving." Built on a fast-paced and competitive culture, TQL attracts young professionals who are ready to "work hard and celebrate harder." Fueled by this rapid growth and interest in consolidating their local footprint, TQL needed to expand their real estate footprint to accommodate projected future growth.
02 Solution
The solution resulted in a 120,000-SF addition which allows the campus to house more than 2,000 employees and provides new and improved amenities to meet the needs of their expanding workforce. After conducting visioning sessions with TQL's senior leadership team, BHDP identified several key success criteria which drove design solutions for the new building; it must serve as a landmark, allow for future flexibility, aid in recruitment, support company pride, and encourage collaboration and interaction.
Quick Facts
Size 120,000 SF
Completion Date 2021
Location Cincinnati, OH
03 Results
With this new building, TQL continues to expand their national footprint and nurture their growing business. New hires have voiced their excitement about TQL's new amenities, like the fitness center or café, and employees are taking advantage of the hub to take a break or play a game of ping pong with their coworkers. A hard-working team, combined with a strong project understanding and a clear vision, made for a truly transformative project.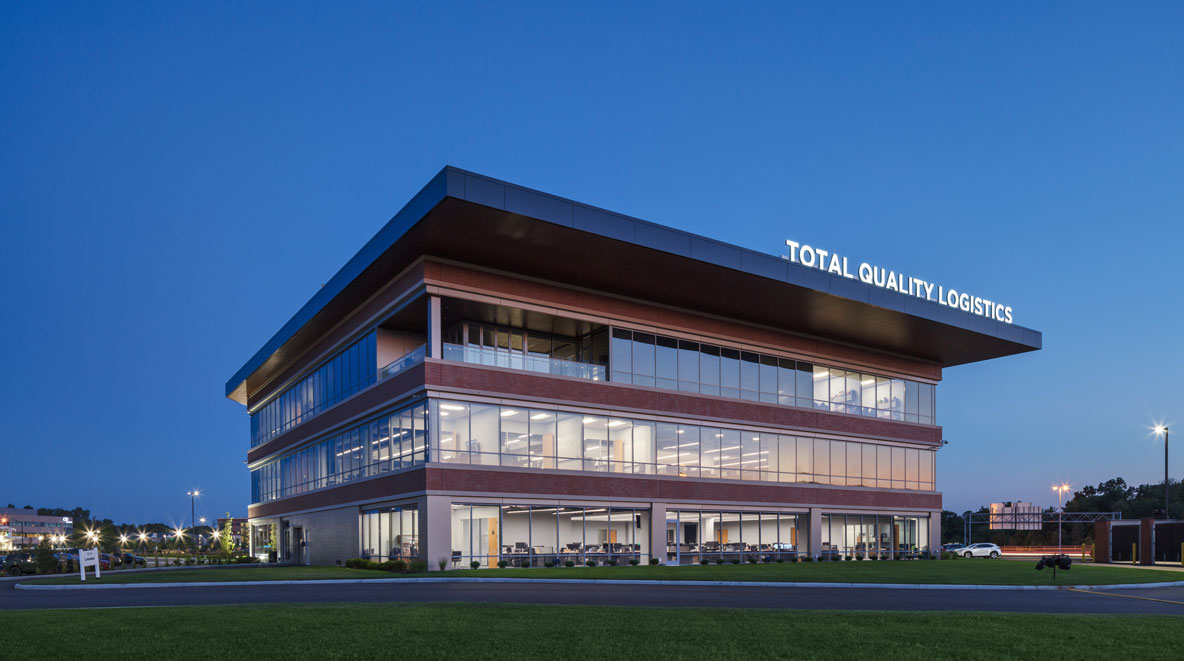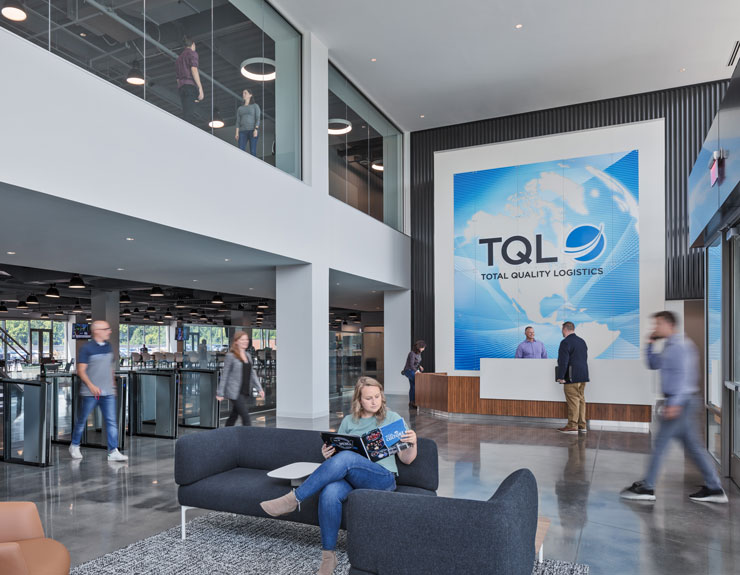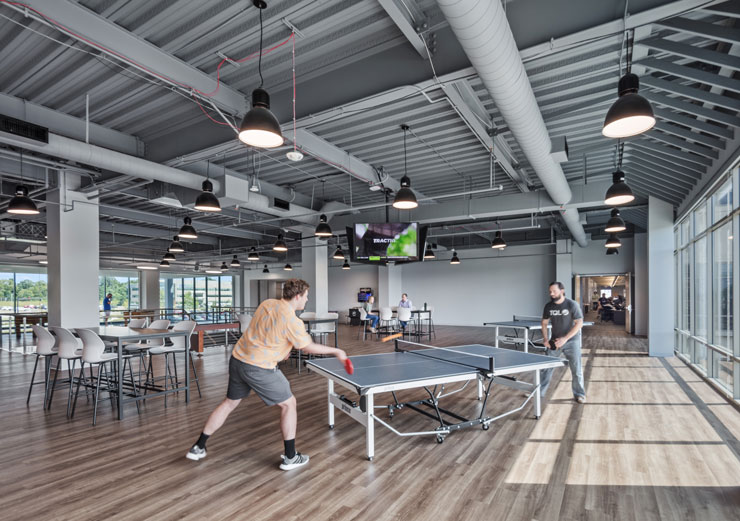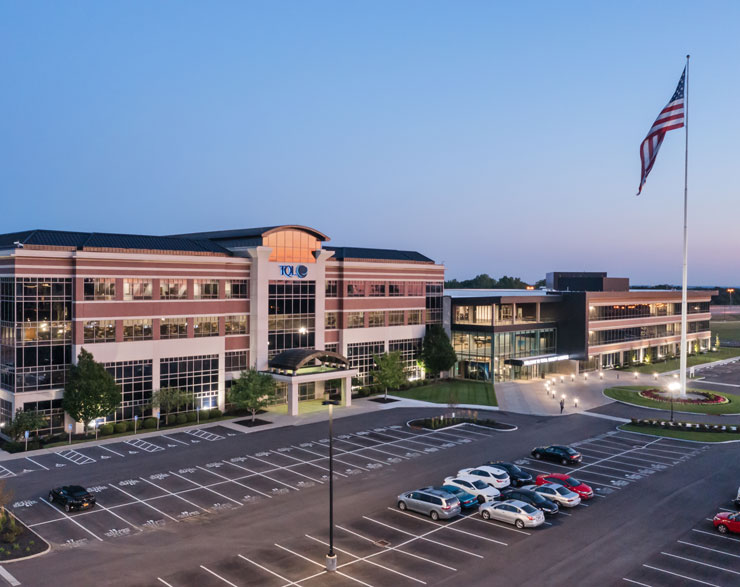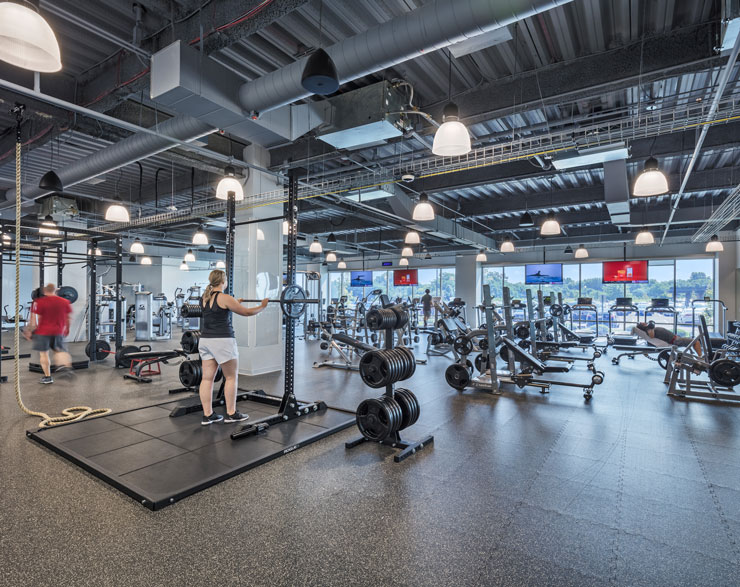 I firmly believe we had the right team. There's no doubt now—when I step back, BHDP was the right architectural firm for TQL.
Daniel Gabbard, Director of Real Estate and Facilities at Total Quality Logistics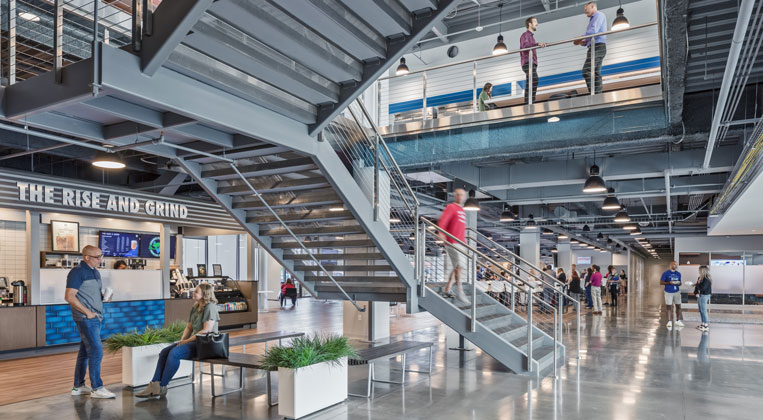 Elevated Culture
As you enter the new lobby located between the existing building and the expansion, you are welcomed into a modern and sophisticated space with a receptionist desk and seating for employees or guests. Just past the security speed gates, a grand staircase serves as the central connection point for the floor. At the top of the signature stair, you are immersed in a flurry of activity. To support their "work hard, play hard" culture, we designed a central hub where employees can play a game of foosball or ping pong, relax and socialize on one of the couches, or play some video games on the big screen.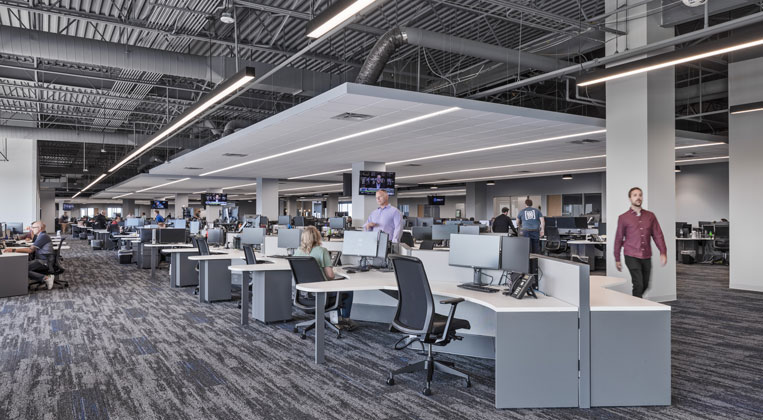 Improved Visibility
Just steps away from this gaming area, employees are hard at work on the sales floor. To improve visibility and provide employees access to natural light, we situated community resources at the edge of the floor rather than in the middle. This change allows teams to work and communicate more efficiently without any sort of physical barrier or division. Overhead, exposed ceilings with dropped clouds add a sleek, industrial vibe while controlling office noise.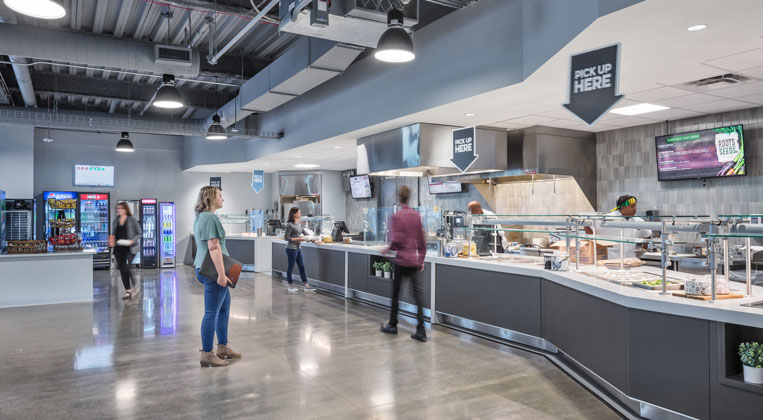 Enhanced Amenities
A significant number of TQL's employees are millennials, so office amenities are a huge plus for many. On the first floor, a new servery offers a modern dining experience with different food options and self-serve kiosks. Additionally, a new, state-of-the-art 24/7 fitness center—equipped with locker rooms, showers, and multi-purpose rooms—allows employees to recharge and get their workout in, and "The Rise and Grind" coffee shop adjacent to the cafeteria offers coffee and snacks for them to refuel.