Future Forward Visions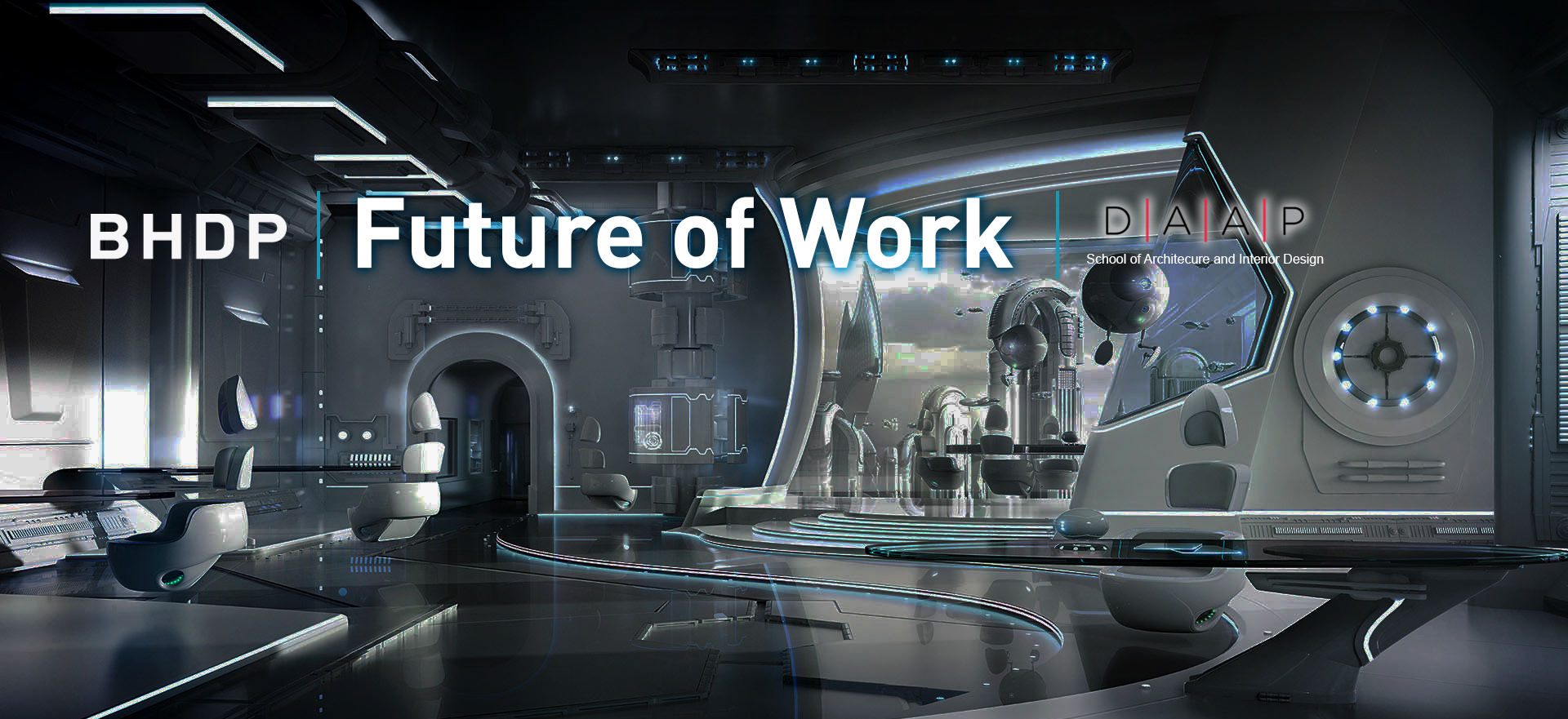 Future of Work
Picturing the workplace of the future has always been part of the facility manager's job, but it's never been more challenging than it is today. Technology that affects the workplace is advancing at a rapid pace—sometimes reflecting changes in society, sometimes actually driving those changes. With employment patterns evolving as well, there's no guarantee that today's state-of-the-art workplace will still be relevant five, 10 or 15 years from now.

An innovative partnership between the University of Cincinnati, BHDP Architecture and several other businesses is endeavoring to meet this challenge through "The Future of Work"—a series of "studio" type classes for students majoring in architecture, sociology, engineering, and design. Creative thinking is a key requirement for these college students, who are just starting to enter the workplace.

No one wants to design grand plans for office buildings that soon will be obsolete. "The Future of Work" is a fresh way to tackle that issue while focusing on the people who'll work in those buildings, not just the structures themselves.

Designing for the future poses a conundrum for organizations and architects. For example, how many office plans used to prioritize tech features such as Wi-Fi or technology-centric rooms? Now, however, it's the norm. Additionally, designers must think about how to create smart facilities that provide information, connect people, support the Internet of Things, and eventually support virtual and augmented reality applications.
The University of Cincinnati students were urged to create visions of the future, then design workplaces responding to specific aspects of those visions. The result: Thought-provoking projects that just might jump-start facilities managers' creative ideas about the future.
An open-ended approach
This year's spring semester architecture studio was the fifth in the "Future of Work" series. It drew impetus from Frank Lloyd Wright's statement that the architect must be a "prophet" of sorts.

Why involve college students in such a lofty endeavor? At this stage, they are relatively free of bias about workplace design. Yet all 16 students in this class were seniors who've already had job experience in several workplace environments through the University of Cincinnati's cooperative education program. Also, creative problem-solving is an integral part of training for all architecture students.

Topics were not assigned. Rather, an open-ended approach allowed students to tackle subjects in which they have a passionate personal interest. The program aimed to balance brainstorming with real-world observation. For example, students toured several Cincinnati-area workplaces representing a range of approaches, including a technology analytics company, a bank with a forward-looking innovation center, several sites with co-working environments, and a brewery whose innovative workspace includes a conference and meeting area.

Working in two-person teams, students pursued topics ranging from the quotidian details of workplace life, to climate change, and to global trends such as employee displacement and urban reinvention. Here are some highlights (with quotations from their presentations):
New ways of thinking about design
Envisioning tomorrow's workplaces was an eye-opening experience for the students who eventually will be designing and working in them.

Shoshanna Sidell, 21, saw her exploration of the superblock system as a way to accommodate urban populations. "My idea of working within a superblock system incorporates well with the idea of developing the growth of cities," she said, and would "foster a sharing culture in a walkable urban space."

For Jonah Pruitt, 21, an interest in adaptive reuse had its roots in childhood memories of helping his family remodel a 100-year-old house. He sees the process of adapting existing buildings for new uses as providing a sense of solidarity with their surrounding communities—an alternative to the process of displacement that is a concern in many urban areas around the world. "Workplaces of the future will need to be flexible and agile, while maintaining the trust and goodwill of communities where they are located to ensure the best quality of life," he said.

Evan Schlenk, 22, was interested in long-distance communication strategies that would work for a solar generating farm and offices for a major energy company. "My proposal reorganizes a traditional office around an augmented reality hub," he said. "This hub allows for 3-D interaction between designers and engineers located in different offices. It allows for collaboration traditionally reserved for face-to-face interaction to take place between people working remotely."

Srimoyee Sinha, 21, wanted to address the monotony of the typical workspace, and at the same time encourage collaboration. Her brainstorm was movable pods—on casters so they roll around. "When the need of collaboration arises, one can just move their pod to attach themselves to the person or persons they are trying to collaborate with," she said.

Hannah Johnson, 22, delved into ideas for using technology to bring people together, rather than isolate them. "Overall the experience has been different from anything I have done so far in my school career," she said. "Trying to plan for the future, you begin to realize that everyone has a different idea of what the future could be. It is a matter of taking pieces of several ideas to really get an idea of what the future could be."
Takeaway Considerations
While students' ideas varied widely, several themes emerged as primary topics for the future of work.
The human experience of work—and life—is a central concern for designers and is continually evolving. Workplaces of the future should include "technology-free" spaces to provide comfort and allow for the occasional disconnection from an overly connected world and more opportunities for stimuli provided by the natural world. These spaces should be considered especially for work that requires concentration as well as team collaboration that is focused on innovation and problem-solving.
Tactics for adaptability, always vital to business success, will become even more important amid rapid changes in technology and society. Another key trend already coming into play involves changing modes and patterns of transportation. These will require new solutions for design, security, collaboration and connectivity.
Trends such as mergers and acquisitions, as well as disruptive technologies and companies, spotlight the need for effective strategies as businesses grow, shrink, adapt and change at a quicker, dizzying pace.
Worksite technology increasingly will be immersive, with a mesh between the virtual and physical worlds. Example: A white-box workspace can be augmented with colors and patterns to suit the individual, or become a framework for walking through a virtual world.
Companies will need to become ever more concerned with societal trends and the communities in which they reside, becoming leaders and agents of change. The need for support amenities will remain constant; however, there will be a shift toward supporting an entire community, not just a single organization.
Adaptive reuse issues will be particularly relevant in urban areas where there are underutilized buildings and space, said Michael Rogovin, a University of Cincinnati adjunct professor and "Future of Work" instructor. It will be important to ask whether it is possible to adapt existing structures instead of building new ones.
Facility managers will have to balance the usual concerns about cost with the need to be concierges of sorts, focused on creating experiences and opportunities that promote productivity. Efficiency and effectiveness must be balanced with both employee and customer experience. The current thinking of dollars spent per square foot of office space needs to shift to dollars spent per employee, with a focus on intelligent, intentional design that creates diversity and sense of place.
For instance, considering circadian lighting might seem esoteric, and installing live greenery might add to maintenance tasks. But the impact on people's work experience should not be underestimated, even though maintaining these types of systems is more complicated for a facility manager.
"Bringing nature indoors could be as minor as providing small houseplants at workspaces, all the way up to greenhouse-like indoor environments," Rogovin said. "The upside is direct engagement with plant life; however, there is an increased cost to upkeep."
Other strategies to provide exposure to nature can be built into facility or structure design, he noted, such as windows with a view and courtyard spaces. Even a digital display showing natural scenes, or the use of natural sounds as white noise, might provide positive effects with less maintenance required.
It's not always simple to predict how global and societal trends will shape work environments. However, facility managers can be key players in creating competitive advantages that propel their companies forward. It makes sense to take a fresh look at how workplaces could change to accommodate societal changes, environmental factors, and human experience through different ways of working.
Originally published in FMJ magazine.
Content Type
Published Articles