Intern Insider: A Look Into BHDP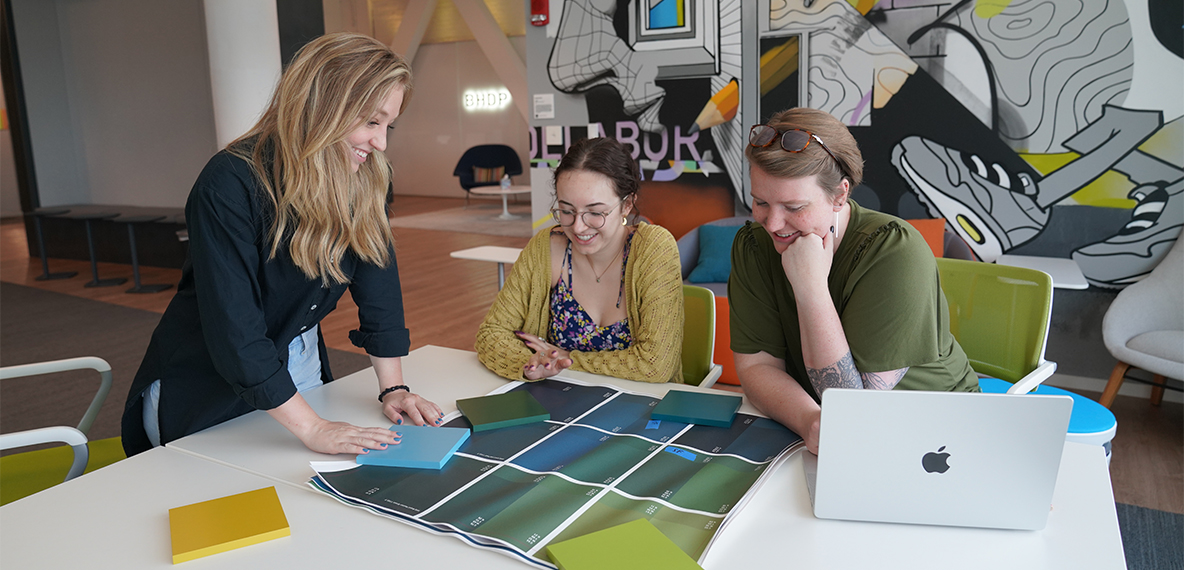 This blog was authored by Claire Del Vita, Marketing Intern.
Interning at BHDP is not ruled by a single narrative. It is a unique experience for every eager mind that walks through the firm's doors. At the end of each semester, they are not the only ones leaving with new knowledge and experience. They also leave a mark on BHDP through the unique perspectives they bring to the firm.
I never thought I would find myself working at an architecture firm, but my time here has taught me so much about myself and what I look for in a company. BHDP's culture is very welcoming, accepting, and encouraging. Not only does this firm design for people, but it also uplifts and encourages their own to be the best they can be.
I asked the other summer interns, new and returning, as well as some of their mentors, about their experiences at BHDP. Here's what they had to say (responses have been edited for clarity and brevity).
What does your workday typically look like?
Madison Coppolino, Workplace Intern: A typical day in the office for me starts with booting up Revit, CAD, or SketchUp. I often spend time picking up comments or helping to create the latest and greatest drawings and models. There is always some collaboration between my team members and me where we discuss the next steps of a project, and I usually get to learn a new command, tool, rule, design standard, etc.
Lauren Jones, Higher Education Intern: First thing in the morning, I join our weekly Microsoft Teams meeting with the higher education team to discuss our workloads and the status of a current project. After that, I join a group of my colleagues on a morning walk to our local coffee shop, Community Matters Café, to get hot tea and fresh air. Once I'm back in the office, I spend the day working on interior elevations, modeling for an upcoming project, and possibly having a meeting or two. I end my day prepping for the next.
How have you grown professionally through your internship?
Kathryn Lutmer, Experiential Graphic Design Intern: Professionally, I have learned so much about working closely with clients and how to cater best to their needs. My team graciously trusted me with leading my own project, and as a result, my presentation skills have significantly improved. My incredibly supportive team has helped me gain confidence in my work and pushed me to speak clearly and concisely about my design decisions.
Kaitlyn Wesley, Industrial Intern: Throughout my internship at BHDP, I have seen what working at an architecture firm is like. This opportunity has allowed me to learn many skills not taught in school, such as setting up drawing sheets, working on redlines, sitting in on client meetings, and going on site visits. I have also been exposed to multiple projects of different sizes and phases, allowing me to work on time management and determining how to prioritize projects. I have a new set of skills and knowledge which I can implement in projects at school.
What was your favorite part of your internship?
Lauren Jones, Higher Education Intern: The most influential part of my internship was sitting in on my first client meeting. This experience allowed me to pair the architecture with the people in real-time. Although this was an interior renovation project, I could imagine the transformative spaces that could occur based on the client's wants and needs. In school, we find ourselves designing for the "what if" or based on conceptual ideas, and this experience gave me the ability to pair those ideas with something real.
Abigail Laake, Interior Design Intern: I think my favorite part of my internship with BHDP was meeting all the different people who work on projects in various capacities, including those outside of BHDP, like product reps. There is always a lot to learn from people with different backgrounds and experiences; one of the reasons I was so interested in coming to BHDP was the focus on people-oriented design. I think the promise "We design for people" is such an important part of the design industry because that is what it's all about.
Jordyn Morley, Higher Education Intern: Many things have been more than favorable for this internship, but I will try to limit it to two. One of my favorite things about my internship thus far was going on a site visit at Mount St. Joseph University and sitting in on a meeting with the production team. I also enjoyed attending an official client meeting with Galen College of Nursing.
How would you describe BHDP's culture?
Kathryn Lutmer, Experiential Graphic Design Intern: If I could describe BHDP's culture in one word, it would be supportive. As a student who hasn't done much previous work in the field of experiential graphic design, this team has been incredibly patient and gracious in teaching me the ins and outs of the design process at BHDP. Everyone on the team uplifts and pushes each other to produce great work, and the environment here keeps me inspired and excited for future projects.
Hailey Merrill, Community & Government Intern: I would describe BHDP's culture as very welcoming. It has become a common occurrence at BHDP for someone whom I have yet to meet to introduce themselves on the elevator or around the office. Along with this, BHDP gives us many opportunities to connect with people on other teams and share the work we do. The workplace environment is always friendly and positive, and it is easy to see employees passionate about their work every day.
Why did you choose to return to BHDP for another internship?
Grace Butler, Industrial Intern: I was excited to return to BHDP because of the positive work setting, the scope of projects, and the collaborative environment. I feel as though I've been able to grow as an architect this summer, learning something new every day. My mentor, Kevin, welcomes all my questions and is very good at explaining not only how but also why specific tasks need to be performed. I am grateful to be part of the Industrial team while they are working on so many exciting projects.
Eduardo Cabrera, Higher Education Intern: When I first heard about BHDP, one of the things that caught my eye was their design process and collaborative work. Coming to the office and experiencing that was one of the best experiences an intern could have. Those are qualities that I have carried on and continued to practice in my personal studio work and, hopefully, through the rest of my architecture career. In addition, the attention, mentorship, and guidance I have been provided here are part of why I wanted to return to BHDP.
Mollie Kunar, Interior Design Intern: I chose to stay at BHDP for several reasons, ranging from the skills I have learned to the firm's culture. I found that the internship provided valuable learning experiences and the chance to develop new skills that align with my career goals in interior design. I have been able to work on exciting and impactful projects during my time at BHDP, which was a motivating factor to continue into the summer. This internship has allowed me to network within the company and industry, which will be valuable for my future career prospects.
How do interns add to BHDP's culture of continuous learning and collaboration?
Mark Rebholz, Architect: Interns at BHDP help contribute to the continued learning process by asking questions from a fresh perspective. Often, we have code requirements and design elements memorized, and it's not until an intern asks, "Why?" that we truly learn things and not just memorize. Sometimes an intern with a fresh perspective asking a question about something they don't understand can send you down a path looking for the answer that causes you to learn something new. In a collaborative office, everyone learns when one person asks questions, and nobody asks more than interns.
What is one piece of advice you would give future interns?
Sarah Frey, Experiential Graphic Designer: Come in curious and ready to learn! We think of our interns as a part of our team. Working here, our interns are designing and collaborating alongside us. We try integrating them into different teams and all aspects of our design process.
---
Interning at BHDP has opened my eyes not only to the world of marketing but also to the world of marketing for design. I gained valuable skills in social media, strategic thinking, email campaign writing, and graphic design. Not only have I gained new skills, but I have also improved my communication, writing, and time management. The people and connections I made are not only new faces to add to my network but also new friends. To say I am grateful to have had the opportunity to intern at BHDP is an understatement.
If you're looking for your next internship, consider BHDP. Visit the Careers page to check out job openings.